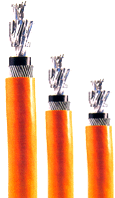 Ashoka Cables Pvt. Ltd. is a company that has made a mark for itself in a short period of time. Ashoka Cables is engaged in manufacturing of Electrical Wires & Cables in accordance with the corporate objectives of quality control, perfection & professionalism and that too with a third party guarantee ISI mark to satisfy the needs of its customers.
Ashoka Cables produces wide range of PVC/XLPE Power, Control, Instrumentation, and Aerial Bunched Cable including FR, FRLS & Zero Halogen Cable & various types of special as per specification. Ashoka Cables is marketing its cables by brand name 'PROPER'.
Ashoka Cables modern plant is accredited with ISO 9001:2008 Certification and is located at Jaipur, capital of the industrially advanced and peaceful state of Rajasthan. The plant has well established production lines, modern quality control facilities, technical assistance wing and well planned plant utility and off site facilities. This is augmented by a team of dedicated, experienced and well qualified Managers, Engineers and support staff.
The testing and quality control section offers facilities to carry out all routine acceptance and type test as per Indian as well as International standards, at our well equipped laboratory under the supervision of qualified engineers and experts. Ashoka Cables has implemented extensive quality assurance and quality control programme.
The essence of our success lies in the expertise of a team of professionals strong relationship with associates, the ability to adapt quickly and efficiently and ably supported with the vision to think ahead .